City Tourist Guide Best of Ann Arbor, Michigan
A-1 Airport Car is based in Ann Arbor, and we offer full day rides as well as luxury car rides from Ann Arbor to all major parts of Michigan. Being our home, no one knows the town more than us, and we promise a scenic and memorable ride to you and your family, be it a personal holiday visit or work-related visit to our lovely city of Ann Arbor.

Ann Arbor, more prominently know a "A2" is home to the renowned to great University Of Michigan (U of M). Being a university town, backpack-wearing students hover the streets of Ann Arbor all around the school year. It is fairly populated with restaurants and eateries all around. Apart from being a lively student's hub, Ann Arbor, which was founded in 1820s also exhibits Gothic architecture buildings, child-friendly museums as well as many art enthused prestigious collections for the adults to see.
Summer time is really blooming with festivals almost each weekend. The bars, cafes and restaurants feature open outdoor sitting, so you can admire the laid back locals and the lovely passing by people while feeding your appetite. Ann Arbor is sort of liberal community packed with art galleries and music venues with mostly friendly locals. The Main Street is an enjoyable local scene featuring the real Ann Arbor.
A popular destination for families, Ann Arbor boasts child-friendly with exciting hands-on exhibits and art museums with prestigious collections. Couples and single travellers enjoy the diverse shops, restaurants and nightclubs. All major attractions are located in the same area, so it is easy way from one point to the other. A-1 offers a city day tour for Ann Arbor visitors as well as daily run from A2 to other parts of Michigan, upto Windsor and Ohio.
Book your local pick and Drop now to any Airport in Michigan and get instant confirmation
Book Online Now
Michigan Stadium - Big House
Nicknamed "The Big House", it is the football stadium for the University of Michigan in Ann Arbor. It is the largest stadium in the United States, the third largest in the world. Its practical capacity exceeds of 115,000.The MI football team called the Wolverines play here infront of massive crowds. Michigan Stadium is used for the University of Michigan's main graduation ceremonies as hockey games. Its the most iconic places in Ann Arbor, Michigan.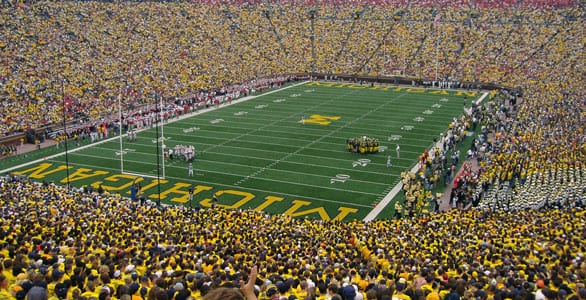 Michigan Theater
The Michigan theater is a well maintained, intimate and a lovely architecture to adore its beauty. The grandeur of the upstairs lobby, the Balcony, View from the stage and the Screening room, all are itself breathtakingly beautiful. The seats, carpets and ladies room are all immaculate. Theater hosts Live performances by artists from around the world. Music & dance programs are scheduled by the University Musical Society. Seeing the science film is also a wonderful experience worthy of your visit to this theater. They also have live organs that play before movies start. In the 1930's, the lobby was used to showcase products such as GE refrigerators and ice boxes. Restoration and modernization began in 1985 under Judith and Robert Dow, the work-of-art speaks for itself. Kudos to the restoration team's efforts and those who maintain it by heart!
Hill Auditorium
Hill Auditorium, University of Michigan in downtown Ann Arbor is called a 'monument to perfect acoustics'. Its superb acoustics, done by architect Albert Kahn and supervised by noted acoustical engineer Hugh Tallant, sets this Audi apart in terms of sound quality it delivers. This sound perfect venue hosts a variety of musical talents. Call A-1 Airport Cars staff at 877-276-1335 to book tickets to a show playing at Hill auditorium, and maze your ears with the miraculous sound quality of this theatre. If visiting Ann Arbor in October, catch the Halloween Concert which music students put on a classical concert. Also events keep ahappening all around as it houses world-wide favorite venue for legions of famous musicians and other artists, as well as numerous noted speakers.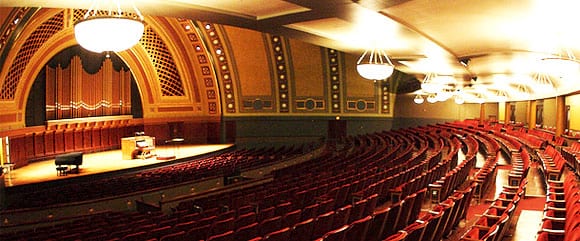 Museum of Art (UM) and Kelsey Archaeology Museum
The UM Art Museum (UMMA) is a wonderful small museum to spend time looking back into ancient art forms by art and history lovers. A nice collection of Asian art, glass and pottery collection is fascinating. Walk through the ages. wonderful Islamic Art collection of Doris Duke's incredible Shangri-la home with architectural drawings, photos, and artifacts from Middle East collection, coupled with works by Middle East artists in residence.
Kelsey Archaeology Museum is Another Gem just across the street houses finds from the university excavations in the Levant (Egypt, Israel, etc) mainly from first half of the 20th century. Nice exhibits by professional archaeologists. You walk through an older Richardsonian granite building to a modern addition (Upjohn Exhibit Wing) in the back with an incredible array of ancient artifacts. Lit by a wall of windows, the first floor showcases many of the smaller pieces, with excellent explanations not just of what the objects are, but how they were used and where they were found. Up a long staircase, the windowless second level has larger installations including an ancient roman room. Photography is allowed and the museum is free.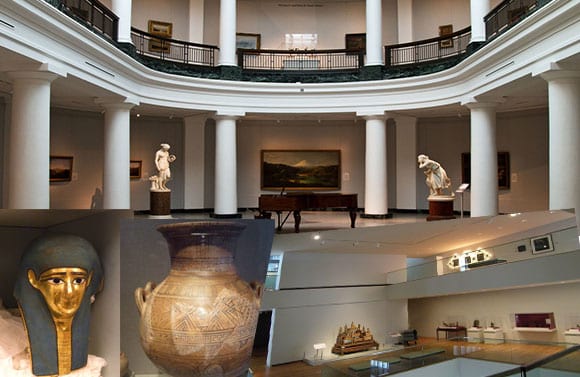 Gallup Park
Spread over 69 acres, it is Ann Arbor's most popular recreation area. Located along the Huron River and Geddes Pond with scenic walkways, small picturesque islands with rustic pedestrian bridges. It has two playgrounds, famous as a picnic spot family grill weekends, areas and grills scattered throughout the park, two picnic shelters, open field for play, and over three miles of asphalt trails that are popular for biking, rollerblading, walking and running. Canoes and kayaks are available at the livery. Two drinking fountains and many benches allow the park user to take respite from their recreational activities.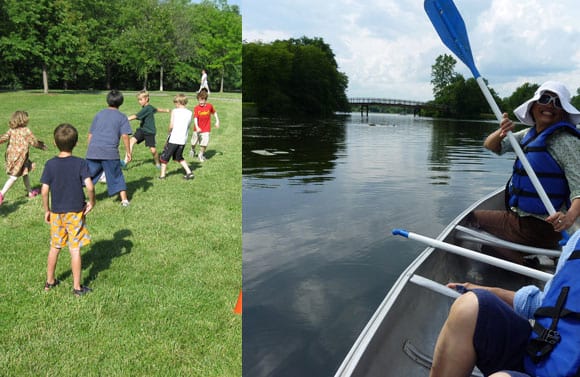 So while you are sitting and just thinking to visit the above beautiful places, just consult us. We are here to take your care in an amazing and sophisticated manner.

If you really want to have an ultimate sightseeing, city view and alluring places to visit in Ann Arbor with best assisted and trained professional drivers, you will surely be happy with the services and varied range of assistance offered by us either for self, family or corporate travel. A-1 Airport Car Services excel in providing best city tour in Michigan and exceptional assistance from the airport either related to pre-booking where we match our timings with you scheduled flight, 25*7 assistance to be available at you service at every hour, pick and drop service to your destination hotels and from airports, airport transfer and providing wide range of cars which ranges from luxury sedan to Limos. You will all find it here.

Just give us a call at 877-276-1335 or write to us for further assistance in the best possible way.