City Tours and Site Seeing in Michigan | Things to Do in Michigan

Our experienced and knowledgeable chauffer's will take direct routes to the City's most visited places, and will give you a scenic ride, guiding you alongside wherever needed. They possess good conversational skills and speak fluent English.
So are you planning a visit to Detroit or Michigan State with your family, or perhaps you are a business corporate, and you need car rental to roam around? Worried about as to which place to stay and visit? Um, then perhaps you have visited the right place. A-1 Airport car service is the best and final solution for your worry. The most tedious part of a visitor at a place lies when he searches efficient transport services with efficient, knowledgeable and courteous drivers. A-1 Airport Car Service provides you a one stop solution.
A-1 Airport Car service is a reputed company which offers to provide the best of sedan service and luxury metro city cars at your destination in Detroit and Michigan. Our services are alluring in terms of affordability, comfort and luxury when compared to other taxis and cabs.
While you are coming as a visitor or tourist here, you ought to have dilemmas regarding transportation. The undue timings of flight, huge traffic blockades, lack of tourism knowledge by local cabbies and the unnecessary charges by local transport service are the big problems.
A-1 airport Car Service has best of professional drivers especially trained for tourism purposes. We have no timing issues. We are available 24/7 time at your service.
Detroit is a fantastic place to visit. The city tours in Detroit are known for its large number of tourists who come to relax, enjoy and party here. Endless number of museums, parks, theatres and historical buildings dominate the state. While you are imagining about the travel, we give you an outlook glance of some of the places.
Book your local pick and Drop now to any Airport in Michigan and get instant confirmation
Book Online Now
Detroit Institute of Arts
The Detroit institute of arts showcases the best art collection from the United States. It even has real Mummies!.
Operational since in 1927, after World War I, when the auto-industry boom made Detroit one of the world's richest and most industrially modern cities. The museum's Beaux Arts building is colossal, with hundreds of galleries to choose and witness growth and history of Michigan. Check out collection of pieces by artists, Diego Rivera's expansive mural known as Detroit Industry. Finally, spend a few moments to reflect in the Kresge Court, an inner courtyard and café. Also in near vicinity is the Charles H. Wright Museum of African American History, which is worth a look if you have some spare daytime.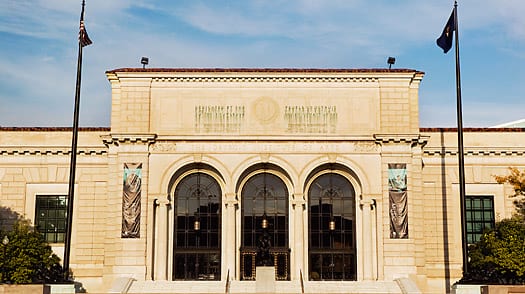 Comerica Park
The Comerica Park is a no ordinary Ballpark to visit; rather it is a combination of theme park, fantastic baseball museum and also a Ballpark. Every seat is good seat at Comerica Park. Good food, good beer and just a great place to enjoy the game. After the evening game on Fridays their are fireworks, which any kids and grown up would love. So if you are in Detroit and you want to have a good time, go catch a game at Comerica Park. Go Tigers.
Old St. Mary's Church & Historic Trinity Lutheran Church
If you are searching for some religious bliss, you can even visit Old St. Mary's Church. It began as a mission of the Catholic diocese of Grand Rapids. The first church was built around 1884. The parish grew to become a predominantly Polish congregation while under the pastorate of Father Casmir Skory (1892 - 1905). In 1893 Father Skory founded the St. Mary's School, which was served by the Dominican Sisters. Father Skory was instrumental in the planning and construction of this church in 1900. The famous Historic Trinity Lutheran Church was donated by Charles Gauss and was dedicated in 1931, although the congregation had been in existence since the 1860s. The architects were W.E.N. Hunter, Don W. Hunter, and L.W. Simpson. The style is 16th century English Gothic Pier and Clerestory.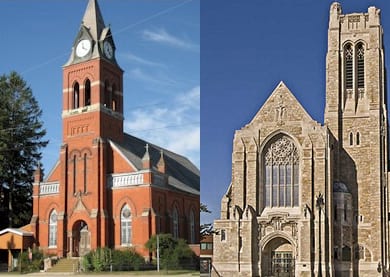 Ford Model T Automobile Heritage Complex
Automobile junkies will surely be allured by the visit to Ford Model T Automobile Heritage Complex, located at Former Ford Piquette Avenue plant.Birthplace of the Model T. Today, it is the only example of an early Detroit auto factory open to visitors. You can see where Henry Ford designed the Model T and built the first 12,000 "Tin Lizzies." Learn about the other models Ford built at the Piquette plant between 1904 and 1910. And the colorful personalities of Piquette who set the world's record for car production, making Ford Motor Company the world's largest manufacturer of automobiles in less than four years. Learn about the lives of typical autoworkers in 1908 - their ten-hour days and six-day workweeks; and how they built cars before Henry Ford introduced the moving assembly line. Admission is $10 per person.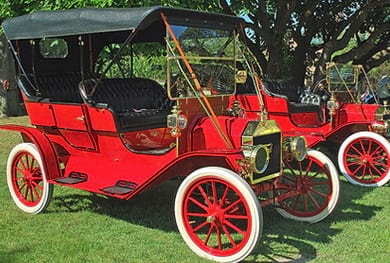 Fisher Theatre
The Fisher Theatre is also the best place to witness live shows and huge crowds. Attend one of the outstanding performances at the Fisher Theatre, located in the historic Fisher Building in Detroit at 3011 W. Grand Boulevard at 2nd Avenue. Not only will you see an amazing Broadway performance, but just to be in the Fisher Building is and experience in and of itself. Albert Kahn was given carte blanche and encouraged to use the best materials, craftsmen, and contractors to bring their vision into reality. Whatever seat you purchase, you are assured a wonderful audio and visual experience of the show.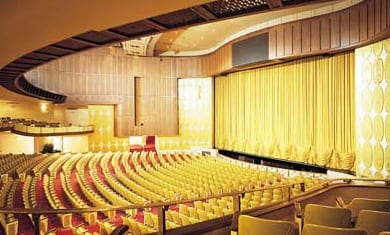 Michigan is even a great place to visit. The City Tours in Michigan are famous all over the world. You never feel homesick due to the great hospitality of the natives here. Alluring Hot Spots of Michigan call out loud to be discovered, witness cities of Pure Michigan.
Let us take you on a small ride presenting some of the top tourist locations in Michigan.
Sunrise Coast
Sunrise Coast invites you to enjoy the simple pleasures in life ranging from Lake Huron to Largo Springs and all along the mighty Michigan Au Sable River. 200 miles of spectacular scenic views and an astounding array of large public forest and recreational properties await travelers on the Huron Shores Heritage Route. The northern Lake Huron shoreline boasts water, forests, wetlands, lighthouses, parks, trails, museums, small towns, culture, attractions, golf, dining, and many other hidden treasures. And the adventures aren't just on the coast....connecting to the Heritage Route in Oscoda is the River Road National Scenic Byway....which winds along the mighty AuSable River through the Huron National Forest.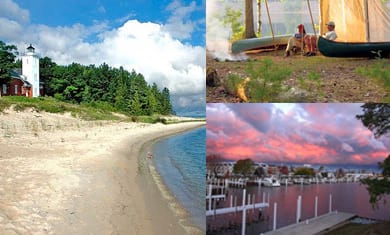 Mackinac Island
At Mackinac Island, it's time to feel like a kid again. So if you are on a city tour in Michigan, set sail for picturesque Mackinac Island for a truly special escape. This is Mackinac Island State Park, a landscape characterized by high limestone bluffs, beautiful vistas of sparkling water, vibrant forests, and mystical geological formations. With automobiles banned since 1898, here exists a quieter way of life away from interstate noise of cities. Over 80 percent of Mackinac Island is within Mackinac Island State Park—free of charge and open year round—where you'll discover the true natural gems of Mackinac. You may also visit Fort Mackinac, built in 1780, the historic Mackinac Art Museum or just do Deep Fishing activities.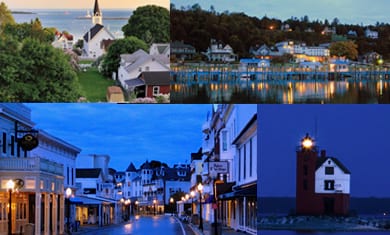 Henry Ford Museum
Come and discover America's Greatest History Attraction. The 300 years of history makes the Henry Ford Michigan's number one cultural vacation destination – one of the most wonderful places to visit in Detroit. The Henry Ford is about 10 minute drive away from I-94. Kids love the museum part of The Henry Ford. Kids 4 and under are free, which is nice, adults were $17 each. There is a LOT to see here on foot. Airplane section of the museum is amazing and so is the train section. Grown-ups will prefer the cars and witness the evolution of Auto industry. The museum is well very well kept. The floors were very clean, like they had been freshly waxed. All of the displays are immaculate. It can take anywhere from 4 hours to a full day, there is a lot to see at every corner!
Traverse City
Called the Cherry capital, a spectacular 4-season destination with abundant outdoor recreation, hot sugar-sand beaches, the great dining, beautiful wineries, awesome brew pubs and also unique boutiques, showcased in unparalleled natural beauty. Traverse City is located north of Grand Rapids on the banks of the Boardman River and Lake Leelanau. Traverse City is a favourite place to begin a vacation due to its central location to so much of the Lake Michigan Coastline and Michigan's great Northland. It has also become a popular place for retirement as well as to locate a business due to its diverse economy. Huge crowds gather for new year's eve, National Cherry Festival.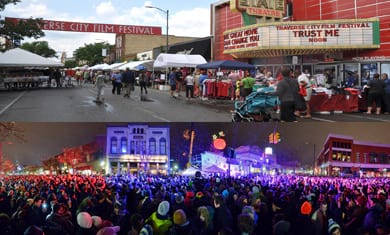 Michigan is even a great place to visit. The City Tours in Michigan are famous all over the world. You never feel homesick due to the great hospitality of the natives here. Alluring Hot Spots of Michigan call out loud to be discovered, witness cities of Pure Michigan.
Let us take you on a small ride presenting some of the top tourist locations in Michigan.
State Parks, a great getaway in Michigan
Porcupine Mountains Wilderness State Park, is a big park surrounded by Big Midwest Mountains, rich wilderness and big snowfall. Cliffs, waterfalls and four large lakes, including the picturesque Lake of the Clouds passing through.
Tunnel County Park, with beautiful Lake Michigan beach on one side and a shady picnic area with shelters on the other side, an immense children's play scape. In between is a steep, sandy, 140-foot-high dune.
Platte River Point, Benzie County is a cooperated effort by Lake Township and the National Park Service. Out of most popular beaches in Northwest Michigan it hosts picnic facilities and spectacular views of Sleeping Bear Dunes, a long sandy spit with Lake Michigan on one side and knee-deep Platte River on the other.
Bird Creek County Park, Port Austin at the very tip of Michigan's Thumb, this seven-acre Huron County Park features a wide, sandy beach, picnic grounds with a pavilion, playground. You may rents paddle boats and water cycles. But the most remarkable aspect of Bird Creek is its watery location between Lake Huron and Saginaw Bay. From the quarter-mile-long boardwalk along the beach you can enjoy the sunrise and a spectacular sunset.
P.H. Hoeft State Park, features a mile-long, ideal stretch of sand for beachcombing and Lake Huron freighter-watching. Passing through is the Huron Sunrise Trail, a 12-mile-long, paved rail-trail that hugs Lake Huron. Biking is fun here
Waterloo Recreation Area is the largest park in the Lower Peninsula, it includes 20,000 acres with 11 lakes, 47 miles of hiking trails, 13 rustic cabins, and numerous equestrian trails. The Gerald E. Eddy Geology Center features year-round exhibits and nature programs on Michigan's geologic history. The park offers a setting for a slew of winter activities including snowmobiling and cross-country skiing. A boat launch is available for water activities, and picnic areas complete with shelters are available for gatherings. Because of the large size of this park, wildlife can be seen throughout all seasons.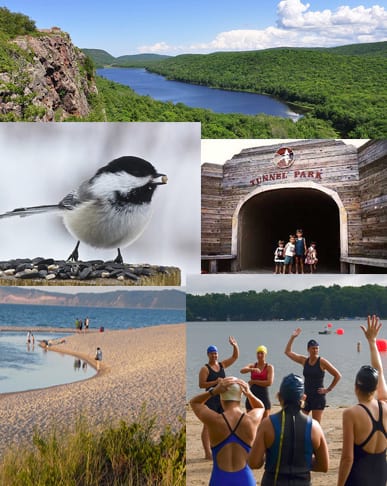 So while you are sitting and just thinking to visit the above beautiful places, just consult us. We are here to take your care in an amazing and sophisticated manner.

If you really want to have an ultimate sightseeing, city view and alluring places to visit in Detroit and Michigan with best assisted and trained professional drivers, you will surely be happy with the services and varied range of assistance offered by us either for self, family or corporate travel. A-1 Airport Car Services excel in providing best city tour in Michigan and exceptional assistance from the airport either related to pre-booking where we match our timings with you scheduled flight, 25*7 assistance to be available at you service at every hour, pick and drop service to your destination hotels and from airports, airport transfer and providing wide range of cars which ranges from luxury sedan to Limos. You will all find it here.

Just give us a call at 877-276-1335 or write to us for further assistance in the best possible way.