Michigan University Transport - Affordable Daily Cabs
A-1 Airport Car is based in Ann Arbor, which is home to the renowned University of Michigan. As an officially recognised transport company for the U of M, we are committed to offer daily rides to the university Staffers and the Students, at very affordable prices. Students and staffers can club the ride with fellow students/staff members on the same route, and enjoy further discounts. The cars are super luxury, hygienically maintained with courteous well informed drivers who know university timings, major events and major drop off spots all around Michigan, Detroit area.
Michigan State University, since its inception in 1817, has always remained on top in terms of academics and sports. The university offers stalwart research facility and comprehensive graduations and doctoral degrees in the humanities, social sciences, Science & Technology, Engineering and Mathematics) as well as professional degrees in medicine, law, nursing, social work and dentistry.
The University of Michigan is divided majorly into the North, Central and Sports (south) Campuses.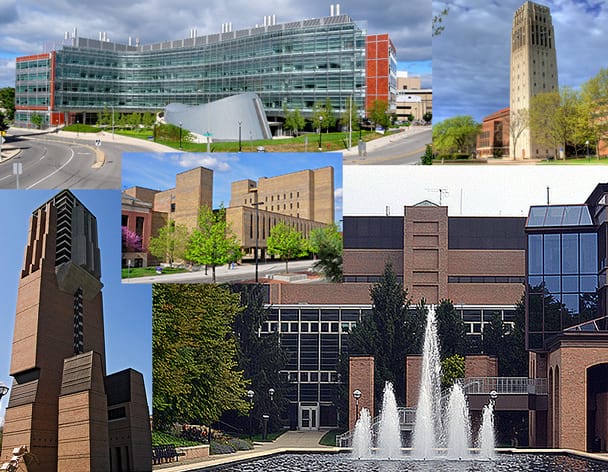 Central Campuscomprises the College of Literature, Science and Arts, and the medical School. It also houses professional schools like the Ross School of Business, the Ford School of Public Policy and the Law School. The medical and Dental Schools are also adjacent to these buildings. The Harlan Hatcher Graduate Library and the Shapiro Undergraduate Library are also on Central Campus. It also houses the notable Michigan Art Museum, the Kelsey Archaeology Museum as well as the Detroit Observatory. The Burton Memorial Tower and Hill Auditorium are noteworthy architectural buildings here.
The University Hospital (UMHS) is also in North Campus, and A-1 Airport Cars offers daily runs to and from the DTW airport to the medical centre.
North Campus houses the College of Engineering, the School of Music, Theatre & Dance, the School of Art & Design, College of Architecture. Duderstadt Center houses the Art, Architecture, Engineering Library, computer labs, video editing studios, music studios and a 3D virtual reality room. Also Gerald R. Ford Presidential Library and the Bentley Historical Library are in this area of University.
South (Sports) Campus comprises the sports section, and hosts major sports facilities such as Michigan Stadium, Crisler Center, and Yost Ice Arena. South Campus also has Theatre Arts Complex.U-M's golf course is located south of Michigan Stadium and is renowned as "golf's greatest course architect". Michigan's athletic teams compete in Division I of the NCAA and are collectively known as the Wolverines. They are members of the Big Ten Conference.
Freshman Orientation Programs
University of Michigan offers Freshman orientation programs for new Students, and Parents/Family in September, January, May and late June. Fresh Students, staff and even parents are encouraged to attend the scheduled orientation programs. We at A-1 airport cars provide dedicated 24/7 car transports while the Freshman orientations are open, including DTW airport and other major airports to and from the popular hotels, motels and accommodations nearby university area. The most prominent places of stay in are Hampton Inn Mt. Pleasant and South, Bell Tower Hotel, Hilton Garden, TownePlace Suites, Ann Arbor Regent, Sheraton Ann Arbor, Holiday Inn, Hawthorn Suites and Comfort Inn. Amongst the less expensive motels, you can check Motel 6, Embassy motel, Lamp Post inn and the In and Breakfast. All major hotels and offices of university of Michigan are very well known by our drivers, and we will ensure you promptly reach your place of visit without having to ask for help or even pull out your maps. The chauffeurs will also guide you good places for lunch and dine.